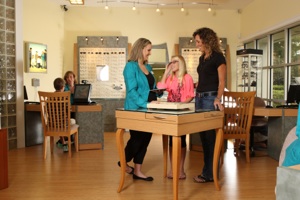 At Central Florida Eye Center, P.A., we believe in a personalized approach to fitting eyewear. We call it "Lifestyle Dispensing". With thousands of different lens materials and designs from which to chose, it is important to pair your eyewear to your lifestyle and visual needs. Designing the optimal eyewear for you begins in the exam room with our doctors and then continues in our optical with our knowledgeable dispensing technicians. During the fitting process we will need to take some time to get to know you. Once we have a feel for how you use your eyes during the day and what your favorite leisure activities are then we are ready to make some recommendations!
Did you know that there are lens materials that are significantly thinner and lighter than plastic?
Did you know that your progressive lenses can be custom made to your prescription and frame size to give you the clearest vision at all distances?
Did you know that some progressive lens designs are better for the computer while some are better for watching TV?
We will happily take the time to discuss all of these advancements in lens technology with you!
We believe that when you are fully educated about your options you can make the best decisions about what will work for you. You see, it is all about a personalized approach. When it comes to eyewear, one size does not fit all!

Thinner High-Index Lenses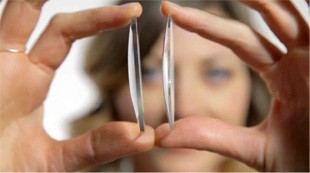 Every lens has a density factor rating, indicated by a number called the index of refraction. The higher the index number, the thinner the lens material can be to bend light and correct your vision. High index material is also lighter in weight and more impact resistant than conventional plastic lenses. This new high-index plastic polymer is the lens material of choice, combining the valued benefits of a desirable cosmetic appearance with safety and optimum lightweight comfort.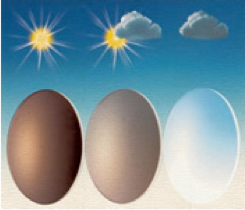 Transitions plastic lenses are said to be the most sophisticated lenses available. These changeable lenses combine the valued benefits of comfort, fashion, function and protection.
Outside, your lenses are dark. Inside, your lenses are clear. Just like their glass ancestors, these remarkable plastic lenses automatically change with variable amounts of sunlight. Aside from the obvious benefits that lightweight plastic affords, Transitions lenses are made from scratch- resistant optical plastic that naturally screens 99% UVA and 100% UVB ultraviolet radiation whether they're light or dark. These lenses perform best when paired with a high quality anti-reflective coating.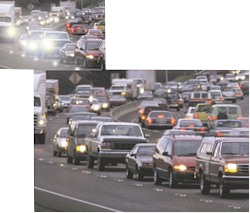 When a beam of light strikes the surface of a clear lens, light transmission (the amount of light that actually passes through the lens) is about 92%. The remaining 8% is lost through reflections from the front and back surfaces of the lens. Loss of light results in a slight decrease in visual ability and an increase in awareness of annoying reflections. Modern anti-reflection lenses eliminate virtually all reflected light from indoor lighting, street lights, headlights, TV and computer screens.
Anti-reflection lenses also provide a reflection- free appearance to your lenses, thus enhancing the appearance of your eyes. Anti-reflection coating is colorless treatment that allows 99% of all light to pass through the lens to your eye. This special coating will significantly decrease unwanted reflected light, provide a more comfortable visual environment and enhance the appearance of your eyewear.

Progressive addition lenses provide the most natural vision possible. Historically, bifocals and trifocals have had visible lines of demarcation between the upper distance and the lower reading sections. This technology dates back to the days of Benjamin Franklin and is outdated by today's standards. Progressives are multifocal lenses have no visible lines, thus making them the cosmetic lens of choice. Progressive lenses have other advantages beyond good looks. All lined bifocals have rigid or fixed powers in upper and lower sections. Progressive multifocals have an infinite number of focal points. That means that that there is a spot in the lens that will focus the user at any distance. Progressive lens technology has improved so much that almost anyone can enjoy the benefits of these advanced lenses. The distortions and narrow field of vision that used to plague many progressive lens designs, have been all but eliminated in the latest premium lenses.
Sunglasses have two major purposes; to protect the eyes from harmful radiation of the sun and to provided comfortable vision by reducing the amount of light and glare reaching the eyes. Sunlight contains both infrared and ultraviolet radiation. Most of the sun's infrared radiation is absorbed by eye's cornea, lens and fluids within the eye. Under normal environmental conditions, this natural defense prevents damage to the sensitive retina lining the back of the eye. Ultraviolet radiation, on the other hand, is absorbed by the eye's lens located behind the pupil. Over a lifetime, excessive exposure to ultraviolet radiation may cause cumulative damage to the eyes in the form of cataracts and/or retinal degeneration. People with life styles and occupations that exposes them to ultraviolet radiation should wear sunglasses with maximum protection. All contact lens wearers should wear sun protection regularly. Not all sunglasses are created equal. They vary greatly in radiation protection, optical quality, light transmission, anti-reflection qualities, photochromatic ability, polarization, mirror coating options and anti-scratch protection.
Polarized Sunglasses
When light bounces off of a surface, its waves tend to be strongest in a particular direction — usually horizontally, vertically, or diagonally. This is called polarization. Sunlight bouncing off a surface like water, a road, or metal will usually reflect horizontally, striking the viewer's eyes intensely and creating glare. Most polarized lenses in glasses have a vertically oriented filter that only allow vertically angled light to enter the wearer's eyes. Glare is eliminated because the horizontal light waves cannot bypass the vertical filter.
The benefit of polarization is that it allows the wearer more comfortable vision in high glare situations, such as water sports and driving. Polarization will always be paired with a UV filter. Polarization is available in lenses with a variety of colored tints as well as in a photochromic lens.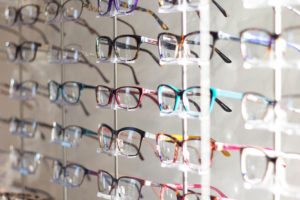 Our modern optical department not only offers the latest in ophthalmic lens technology, but we also offer the latest in frame design and fashion. There is a huge selection from which to chose for men, women, kids, and teens. Browse our hundreds of designer fashion frames or chose a sensible budget conscious frame. We have frames for everyday wear, for sports, for sunwear, and even for motorcycle enthusiasts! We will work with you to select the right frame for your new lenses that will fit your needs and budget.